Open Energy Displays - Playing with FlipDots
From mid-2012 to early 2013 I was part of the 'Open Energy Display Project' supervised by Dr Martin Tomitsch and in collaboration with Mobitec Australia Pty Ltd.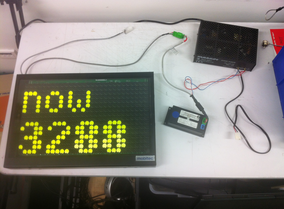 The project is an expanded technological augmentation of a prior project that displayed competitive electricity consumption on blackboards above residents houses [article link].
Various system setups were explored and evaluated. These included hardware components such as Flip-Dot displays, emonTx, and hardware for the control and communication of displays.
Additional information is under a Non-Disclosure Agreement.
Overall an interesting and informative electronic project.
Contact me if you're interested in the source code and documentation for the project.